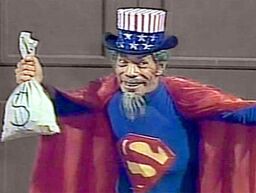 Super Sam is played by Ramón Valdés. He is an American superhero whose appearance is very similar to that of Uncle Sam (including the famous top hat with American colors), but his suit is similar to Superman's. Half of the things Súper Sam says are in English, considering his inadequate skills with Spanish (he is known for having to carry an English-Spanish dictionary in his pocket whenever he needs to save someone in Mexico). Súper Sam's primary weapon is a bag full of dollars that he says were "few, but very powerful"; it is usually used to beat on the head of the wrongdoers or Chapulín, as both don't get along very well. Every time he uses his weapon, the ringing of a cash register chimes in the show's audio. His catchphrase is "Time is Money, oh yeah!" and when present, most people say that "they don't want imported superheroes", much to Súper Sam's annoyance. According to Florinda Meza's character, Super Sam is "just like the Red Grasshopper, but with a bank account."
Ad blocker interference detected!
Wikia is a free-to-use site that makes money from advertising. We have a modified experience for viewers using ad blockers

Wikia is not accessible if you've made further modifications. Remove the custom ad blocker rule(s) and the page will load as expected.