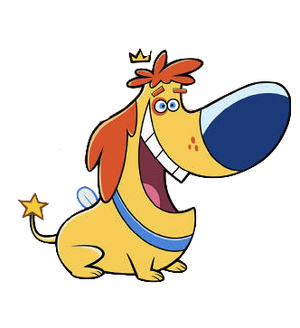 Sparky
is
Cosmo
and
Wanda
's fairy dog from
The Fairly Oddparents
. He is a fairy dog that joined
Timmy Turner
and his fairy family in season 9. He was introduced on the Season 9 premiere episode, "Fairly Oddpet", becoming the addition to the show's main cast, after
Poof
, in 2008. He is a hyperactive fairy dog that became Timmy Turner's pet.
He first appeared in the episode, "Fairly Oddpet." He was adopted by Timmy who wanted a fairy dog after realizing everyone in Dimmsdale had a pet but him, but as he was banned from all the pet stores of the town, he had to adopt a fairy dog from Fairy World. Due to bad rececption, he was removed from the show, making Man's Worst Friend his last appearance.
Ad blocker interference detected!
Wikia is a free-to-use site that makes money from advertising. We have a modified experience for viewers using ad blockers

Wikia is not accessible if you've made further modifications. Remove the custom ad blocker rule(s) and the page will load as expected.