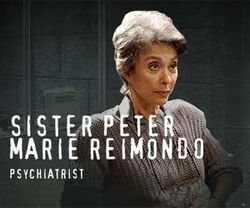 Sister Peter Marie Reimondo AKA Sister Pete is a Catholic nunn played by Rita Moreno
Character summary
A nun, she served as the titular prison's lead drug counselor and psycholigist. She opposed the death penalty, supported much of Tim McManus ideology, and cared to help the inmates become better people. She was formerly married, but her husband was killed when he was pushed off a truck by inmate Ron Bebe.
She also was involved in several issues throughout the series involving Tobias Beecher, Chris Keller, Gloria Nathan, Kareem Said, Ryan O'Reily and Vernon Schillinger. She was especially fond of William Giles, a mentally disturbed inmate who solved her husband's murder.
Ad blocker interference detected!
Wikia is a free-to-use site that makes money from advertising. We have a modified experience for viewers using ad blockers

Wikia is not accessible if you've made further modifications. Remove the custom ad blocker rule(s) and the page will load as expected.