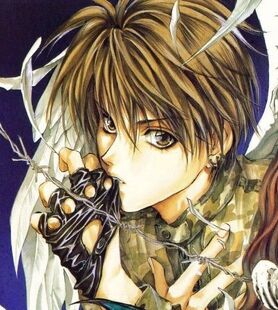 The current human incarnation of the Organic Angel,
Alexiel
. He is sixteen-years-old and is a troubled high school student with a crowd of friends who are considered bad people. He was rejected by his mother because he was "different" and lives with his absent father. He regularly visits with his younger sister, Sara, although secretly. He is hopelessly in love with Sara, a fact that fills him with guilt, but he later decides that she is more important than anything. Though dormant inside him, Alexiel retains many of her high astral powers and Setsuna is almost impervious to injury. Setsuna's semi-effeminate appearance ironically resembles Rosiel's original form to the point that Katan called Setsuna "Rosiel". Like all of Alexiel's reincarnations, Setsuna was doomed to live a miserable life and die a slow, painful death. However, the cycle is partially broken when Nanatsusaya kills Alexiel's previous incarnation. It is then completely destroyed when Sara dies in his place. He also has no memories of his previous incarnations, and at first resents his role as the chosen "Savior", wishing only to protect his and Sara's happiness. He matures as the series progresses, eventually surpassing Alexiel herself. Setsuna is headstrong, rebellious, and impulsive, but he has a good heart and is fiercely loyal to his friends.
Ad blocker interference detected!
Wikia is a free-to-use site that makes money from advertising. We have a modified experience for viewers using ad blockers

Wikia is not accessible if you've made further modifications. Remove the custom ad blocker rule(s) and the page will load as expected.