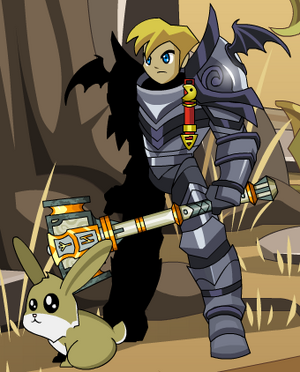 Rolith
is the Captain of the Knights of the Pactogonal Table. Loves tormenting
The Hero
with his insanely difficult Code Monkey Challenges. After the Time Skip, when The Hero finally breaks free of his/her prison, Rolith gives a quick rescue and brings The Hero up to date on recent events.
Trivia
Rolith appears in dragonfable as Pactagonal Knight's captain.
There's a Pac-Man symbol in his chest armor.
His armor is similar Swordhaven Adept which is bought in Good Shop. His armor has wings on the shoulders and has a Pac-man medal on his chest.
Here is Rolith's Character Page.
Rolith is getting married to Alina in Octobre 2012!
His weapon can be bought in Valencia's Adventure Coins Shop (Rolith's Hammer).
Ad blocker interference detected!
Wikia is a free-to-use site that makes money from advertising. We have a modified experience for viewers using ad blockers

Wikia is not accessible if you've made further modifications. Remove the custom ad blocker rule(s) and the page will load as expected.