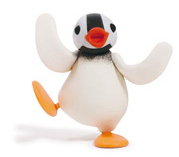 Pinga is the tritagonist of the British/Swiss animated series Pingu. She is the daughter and youngest child of Mother and Father, the granddaughter of Grandfather and Pingu's cute and pretty 3 year old sister. She loves her big brother and always tags along when his around. Although potty trained, she is not yet old enough to be fully independent and looks to her big brother to include her in his games and adventures.
Pinga lives in Antartica with her older brother Pingu and their parents and sometimes joins Pingu and his friend Robby the Seal.
Gallery
Ad blocker interference detected!
Wikia is a free-to-use site that makes money from advertising. We have a modified experience for viewers using ad blockers

Wikia is not accessible if you've made further modifications. Remove the custom ad blocker rule(s) and the page will load as expected.