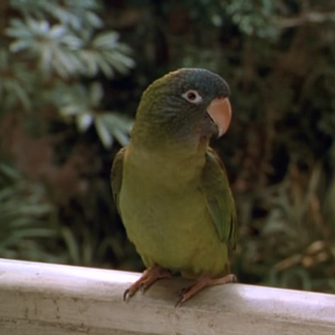 Paulie
is a blue-crowned conure  parrot and the titular main protagonist of the Dreamworks 1998 film of the same name.
He recounts his travels looking for his original owner to a Russian janitor who helps him to the end of his journey.
He is voiced by Jay Mohr.
History
Paulie, an intelligent parrot who actually talks, relates the story of his struggle to a Russian immigrant who works as a janitor at the research institute where he is housed and neglected. Paulies story begins many years earlier when he is given as a gift to a little girl Marie Alweather who stutters. Eventually, he teaches the girl to speak correctly but is taken away by her father because he believes the girl cannot distinguish fantasy from reality because she believes the bird can talk. Paulie goes through a series of adventures with a pawn shop owner, an ageing widow, a Mexican-American troubadour and a would be thief before being taken to the institute where he now lives.
Ad blocker interference detected!
Wikia is a free-to-use site that makes money from advertising. We have a modified experience for viewers using ad blockers

Wikia is not accessible if you've made further modifications. Remove the custom ad blocker rule(s) and the page will load as expected.