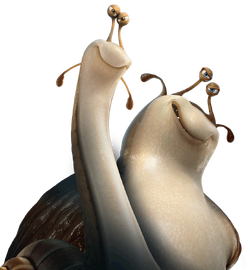 Mub and Grub
are a talking snail and slug duo that are supporting characters in the 20th Century Fox film,
Epic.
They are very wisecracking and love to have fun. Throughout the film, it is shown that Mub has a crush on
Mary "MK" Katherine
, which she just shrugs off. Grub has a dream of becoming a Leafmen, which he never gets to be, until the end of the film. 
They are voiced by Aziz Ansari and Chris O'Dowd, respectively.  
Personality
They are funny and hilarious.
Gallery
Coming soon.
Trivia
Mub is a slug. Grub is a snail.
Ad blocker interference detected!
Wikia is a free-to-use site that makes money from advertising. We have a modified experience for viewers using ad blockers

Wikia is not accessible if you've made further modifications. Remove the custom ad blocker rule(s) and the page will load as expected.