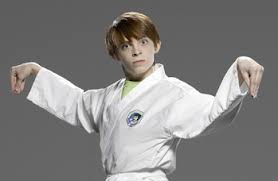 Milton David Krupnick (
Dylan Riley Snyder
) is an honor student who enrolls in martial arts to learn self-defense after being bullied for taking French Horn lessons. He is oddly unaware of his own shortcomings and has an awkward sense of confidence.
[2]
A child prodigy, most school subjects come naturally to him. Milton has a weird sense of nerd fashion, and once got food for the dojo when it was about to get smashed. According to his parents, he looked like a baby bird when he was born. He takes pride in having won his school's first-ever Spelling Bee. Milton wants to be a "kick-butt" hero like Jack. His rarely-used middle name is David. Milton also loves Live Action Role Playing in the park. His girlfriend is Julie. It is revealed that both Milton and Jerry have become so good at karate that they can fight black dragons and beat them. During Kickin it On Our Own, he transfers to Swathmore Academy and Claire seems to have a crush on him.
Ad blocker interference detected!
Wikia is a free-to-use site that makes money from advertising. We have a modified experience for viewers using ad blockers

Wikia is not accessible if you've made further modifications. Remove the custom ad blocker rule(s) and the page will load as expected.