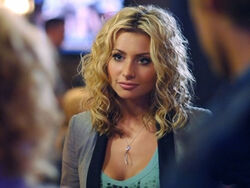 Marti Perkins
is the protagonist of the television show
Hellcats
and a townie from Memphis, Tennessee. Described as "wicked smart", she is a pre-law student at Lancer University. Her mother, Wanda Perkins, works at the university pub and is a party girl who never grew up. Her mother's behavior is, for the most part, an embarrassment to Marti. When Lancer's administrative department cuts scholarships for Lancer employees and families, Marti learns she can get a new one by choosing one of Lancer's programs. She then auditions for a position on Lancer's cheerleading team, the Hellcats.
Ad blocker interference detected!
Wikia is a free-to-use site that makes money from advertising. We have a modified experience for viewers using ad blockers

Wikia is not accessible if you've made further modifications. Remove the custom ad blocker rule(s) and the page will load as expected.