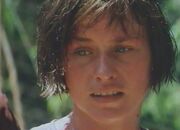 Laura Bowman is the heroine protagonist from Beyond Rangoon. She is played by Patricia Arquette. Her sister, Andy, persuades her to go on a trip to Burma after Laura's husband and son are killed in a home invasion and Laura had gone into a deep depression. One night, unable to sleep because of nightmares, Laura leaves her hotel in Rangoon and gets caught up in an anti-government protest. She is very impressed by the bravery of Aung San Suu Kyi. When her tour group leaves the country, Laura cannot leave with them because she has lost her passport. She meets U Aung Ko, who acts as an unofficial tour guide and drives an ancient Chevy. He takes Laura out into the countryside to a Buddhist monastery. The car develops problems, but fortunately they are able to coast to the house of some of Ko's friends and former students. Laura learns that Ko used to be a college professor, who was banned from teaching for supporting anti-government activity led by his former student Min Han. She has a breakdown and tells Ko what happened to her family. The next morning they learn that the 8888 uprising began the previous day. Ko takes Laura to a station to get train back to Rangoon. She sneaks on board, but the soldiers start beating Ko and when Min Han intervenes, Han is shot and killed. Laura gets Ko into the car and they leave, pursued by the soldiers, but Ko is shot and wounded. They end up crashing into the Irrawaddy river, but get away from the soldiers. They get on a raft taking bamboo to Rangoon. Laura, who is a doctor operates on Ko to remove the bullet. The next day the raft stops at a village. Laura goes to find drugs to treat Ko. She reluctantly accepts a pistol from one of the crew. At a clinic Laura finds the drugs she needs, but has to shoot a soldier to keep from being raped. When they arrive in Rangoon, the city is in the throes of a full scale revolt. When Laura attempts to get into the US embassy the military tries to arrest her for helping Ko. The student demonstrators rescue her and Ko. After they witness soldiers killing civilians they get put on a truck heading for the border. Near the border the group has to abandon their truck and make run through the jungle. They meet up with a group of Karen rebels. Laura has dream where her son Danny tells her she has to let him go. Laura and her group make a harrowing river crossing into Thailand under mortar fire and reach a refugee camp. Having found a new purpose in life Laura begins helping at the camp's hospital.
Ad blocker interference detected!
Wikia is a free-to-use site that makes money from advertising. We have a modified experience for viewers using ad blockers

Wikia is not accessible if you've made further modifications. Remove the custom ad blocker rule(s) and the page will load as expected.