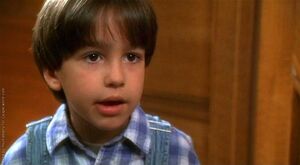 Kyle Grant
is the main protagonist in the 1996 film,
Dunston Checks In
. Kyle is played by Eric Lloyd. He is a 10 year old boy who's father works at a magnificent hotel. Kyle later befriends an orangutan named Dunston who's trying to escape from his evil jewel thief owner
Lord Rutledge
. Kyle takes Dunston in and takes care of him as a pet at the hotel!
History
The Majestic 5 star luxurious establishment, and Manager Robert Grant devoted to keeping his guests happy. However his sons, Brian and Kyle are quite the opposite, troublesome and mischievous. Robert discovers for the chairman of the hotel that a Sixth star could be rewarded to the Majectic Hotel, if a representative is impressed, and this representative is an undercover guest of the Majestic Hotel. But then Lord Rutlidge and his well-trained Monkey, Dunston, check into the hotel. Dunston is trained as a jewel thief by his violent owner, Rutlidge, and Dunston attempts to escape a life of crime and with the help of Kyle and Brian, might just destroy the chances of the hotel becoming a 6-star.
Ad blocker interference detected!
Wikia is a free-to-use site that makes money from advertising. We have a modified experience for viewers using ad blockers

Wikia is not accessible if you've made further modifications. Remove the custom ad blocker rule(s) and the page will load as expected.