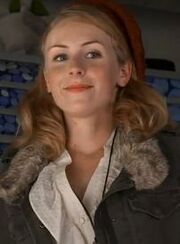 Kimberly Swan
(or more commonly known as
Ki Swan
or affectionately known by
Ted
as
Kiwi
) is a student at Video Game High School and a central character in the VGHS series. She is currently the girlfriend of Ted Wong and a close friend of
Brian D
, the series' protagonist.
Ki comes from a family of prominent game developers and throughout the series displays proficiency at a wide array of gaming genres, particularly Fight and Rhythm gaming. As of Season 1, Episode 9, Ki is studying as a Rhythm gamer after switching her and Ted's ID's so that she could sign him up for Drift Racing.
Personality
Ki Swan is an extremely pleasant and energetic person; consistently displaying an upbeat mood throughout the series. She is an intelligent and dedicated student, excelling at her classes and a wide array of gaming genres.
Despite her trademark optimism and innocence, Ki has been show to act upon a more aggressive, competitive, and even devious side of her personality on occasion throughout the series. In Season 1, Episode 6, a day after Brian's embarrassing defeat at the hands of The Law, Ki ruthlessly defeated their teacher in an unnamed fighting game after she joined in the mocking of Brian. Also, in Season 1, Episode 7, although her intentions were pure, Ki went behind Ted's back and switched their school ID cards, causing him to sign her up for his father's rhythm gaming tryout while she signed him up for Drift Racing, which he had not wanted though later forgave her for.
Trivia
Her name is likely a reference to Kimberly Pine of "Scott Pilgrim vs. The World".
Also, "ki" is the form of energy in "Dragon Ball Z", a refrence to her stating that her parents made a fighting game.
At the end of Episode 8 when Ted is apologizing, Ki shoved Ted in the chest, and Ted swung right back, from hintings of the sound effect, Ted is being portrayed as the Gomboc: He has picked himself up.
Ad blocker interference detected!
Wikia is a free-to-use site that makes money from advertising. We have a modified experience for viewers using ad blockers

Wikia is not accessible if you've made further modifications. Remove the custom ad blocker rule(s) and the page will load as expected.