Heroine



Name

Kendall Perkins

Species

Human

Gender

Female

Age

12

Alias

Officer Kendall
Darling
Ms. Kendall

Origin

Kick Buttowski: Suburban Daredevil

Occupation

Student
Class President (former as of "Poll Position")
Mouth's client (in "Big Mouth")
Mellowbrook's Top Daredevil (as of "Roll Reversal")
Babysitter (in "Pinch Sitter")

Hobby

Studying
Watching dramas and romance movies
Opera
Elegance
Things that are awesome (on occasion)

Goals

To Become Mellowbrook Smartest Student

Type of Hero

Arrogant Hero, On & Off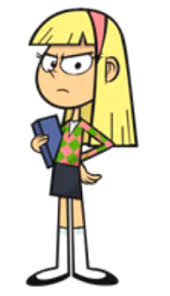 Kendall Perkins
is a character from the Disney animated show, 
Kick Buttowski: Suburban Daredevil
. She is
Kick's
nemesis
, and love interest, similar to
Catwoman
from
Batman,
Urara Shiraishi
from Yamada and The Seven Witches, and
Rin Hojo
from
Initial D
. She is the former class president of Kick's class. She sometimes dislikes him for his daredevil personality but are times when she and Kick actually like each other romantically episodes in like Box Office Blitz, Dancing with the Enemy, Hand in Hand, Pool Daze, Detainted and Power Play. She is bossy and holds a great deal of responsibility.
Gallery
Ad blocker interference detected!
Wikia is a free-to-use site that makes money from advertising. We have a modified experience for viewers using ad blockers

Wikia is not accessible if you've made further modifications. Remove the custom ad blocker rule(s) and the page will load as expected.