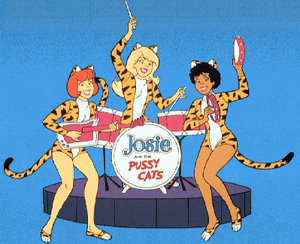 Josie and the Pussycats featured an all-girl pop music band that toured the world with their entourage, getting mixed up in strange adventures, spy capers and mysteries. On the small screen, the group consisted of level-headed lead singer/guitarist Josie McCoy, intelligent tambourinist Valerie Brown and air-headed blond drummer Melody Valentine. Other characters included their shady manager, Alexander Cabot III; his conniving sister, Alexandra; her cat, Sebastian, and hunky roadie Alan M. Mayberry.
Crossovers
The New Scooby-Doo Movies
Ad blocker interference detected!
Wikia is a free-to-use site that makes money from advertising. We have a modified experience for viewers using ad blockers

Wikia is not accessible if you've made further modifications. Remove the custom ad blocker rule(s) and the page will load as expected.