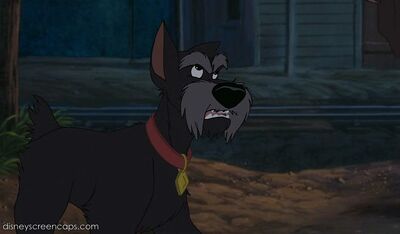 Jock is the tritagonist in Lady and the Tramp, and a supporting character in the sequel.  He is a friendly but sometimes grumpy Scottish Terrier and one of Lady's neighbors.
Personality
Although sweet and loyal, Jock can be the most aggressive dog in Lady's circle of friends, in spite of being the smallest. Nevertheless, he values his loved ones and makes an effort to make such a fact clear, on a consistent basis. He treats Lady as his own relative, watching her grow alongside Trusty and continuously congratulates the spaniel on her many accomplishments, such as the day she received her first collar. He also takes it upon himself to mentor the young pooch, teaching her the ways of welcoming a new baby into the household, and telling her stories of Trusty's past and such.
He is notably the best fried of his neighbor, Trusty who, like Lady, he treats like a relative, along the lines of a brother. The two get along fine, but with Trusty's bumbling ways and Jock's occasional aggression, they sometimes clash, though they never let it tamper their friendship for long, if at all.
As seen in the film, some of Jock's dislikes includes the exposure of his prized bones, Trusty's clumsiness and "mongrels" like the Tramp.
In spite of his size, Jock is a fearless protect, and will go to great lengths to protect the ones he care about. Three instances of this can be seen, where he threatens to attack Tramp, a dog twice his size, if he continues to "harass" Lady, and lastly when he risks his life to stop the dogcatcher's wagon from taking Tramp to the pound, as a way of repaying the mutt for mistreating him early on in the film; showing he's an honorable dog that isn't afraid to admit mistakes.
Ad blocker interference detected!
Wikia is a free-to-use site that makes money from advertising. We have a modified experience for viewers using ad blockers

Wikia is not accessible if you've made further modifications. Remove the custom ad blocker rule(s) and the page will load as expected.