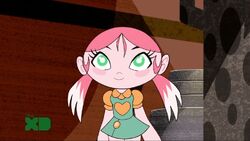 JInmay is a robot girl who Chiro falls in love with. She becomes an official Hyperforce member and becomes the protector of Shuggazoom when the Hyperforce left to destroy the Dark Worm. She and Chiro have fallen in love when they first met after he rescued her. She has pink hair and green eyes. She usually wears her blue dress with a heart in the front and the back when she was an honorary member. Now she wears the same style as Chiro's but in dress form. When she called for help in ghosts of Shuggazom she was wearing her original dress.
Gallery
Ad blocker interference detected!
Wikia is a free-to-use site that makes money from advertising. We have a modified experience for viewers using ad blockers

Wikia is not accessible if you've made further modifications. Remove the custom ad blocker rule(s) and the page will load as expected.