✘
---
This page was marked for deletion because it has little to no content at all. If you think it shouldn't be deleted, please comment in its talk page.
---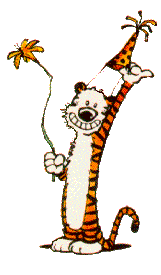 Hobbes
is
Calvin
's stuffed tiger and best friend in
Calvin and Hobbes
. He only comes to life around Calvin or by himself, but acts as a stuffed animal around anyone else. (Hinting that he might be Calvin's imaginary friend) Unlike his friend, Calvin, he has a crush on
Susie Derkins
, and he tries giving advice to Calvin, to no avail.
Ad blocker interference detected!
Wikia is a free-to-use site that makes money from advertising. We have a modified experience for viewers using ad blockers

Wikia is not accessible if you've made further modifications. Remove the custom ad blocker rule(s) and the page will load as expected.