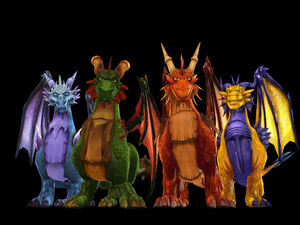 The Guardians are a group of four adult dragons that appear in The Legend of Spyro trilogy. Their job is to protect the Dragon Realms from the evil Dark Master and his army of apes. For many years they were at war with the Dark Master and his apes, and eventually stripped him of his essence and imprisoned him. They believed that a purple dragon would one day hatch and save the Dragon Realms. This was Spyro.
History
The Legend of Spyro: A New Beginning
Ad blocker interference detected!
Wikia is a free-to-use site that makes money from advertising. We have a modified experience for viewers using ad blockers

Wikia is not accessible if you've made further modifications. Remove the custom ad blocker rule(s) and the page will load as expected.