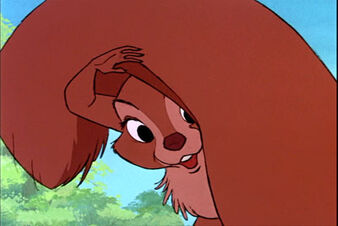 The Girl Squirrel (name unknown) is a character who makes a brief but memorable appearance in The Sword in the Stone.  When Arthur is transformed into a squirrel by Merlin, he runs into the Girl Squirrel, who instantly falls in love with him.  She also saves Arthur from being eaten by a wolf.  Sadly, she is left heartbroken when Merlin transforms Arthur back.
Ad blocker interference detected!
Wikia is a free-to-use site that makes money from advertising. We have a modified experience for viewers using ad blockers

Wikia is not accessible if you've made further modifications. Remove the custom ad blocker rule(s) and the page will load as expected.