Ad blocker interference detected!
Wikia is a free-to-use site that makes money from advertising. We have a modified experience for viewers using ad blockers

Wikia is not accessible if you've made further modifications. Remove the custom ad blocker rule(s) and the page will load as expected.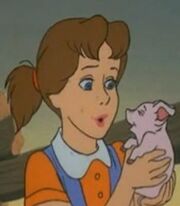 Fern Arable
is the human protagonist of E.B. White's juvenile book
Charlotte's Web
. She is the beautiful daughter of Nancy and John Arable and the little sister of Avery (the latter of whom is a 10-year-old, while she is 8). She also is fond of a boy named Henry Fussy. She is the former owner of the runt of a litter of eleven piglets whose mother had only ten teats. She stops her own father (who was going to kill him because it couldn't get nourished and therefore, it would probably die anyway) from killing the piglet with an axe and offers to take care of him instead. She names the piglet
Wilbur
and takes care of him for three weeks before having to sell him. However, she visits him in her uncle Homer Zuckerman's barn often and even stays with him at the fair.
Fern is voiced by Pamelyn Ferdin (who actually was an animal rights activist at the time, and still is) in the 1973 film version and portrayed by Dakota Fanning (Who would, before staring in charlotte's web's, ironically play sally in the 2003 adaption of the cat in the hat, which was also a character Ferdin played in the 70s adaption) in the 2006 film version.
Gallery