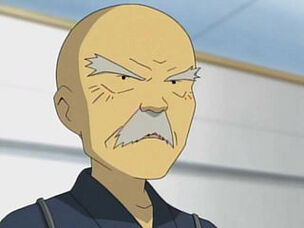 Hida Chikara is a supporting character in Digimon Adventure 02.
Chikara is the father of Hida Hiroki, father-in-law of Hida Fumiko and grandfather of Cody Hida. He is a wise and traditional man, who often provides Iori with important advice. Though he can be stern and serious and has many old-fashioned ideals, he is kind and good-natured and can sometimes be a bit humorous. He is well-known for his love for yogurt packets.
Chikara is a retired police officer and a kendo master, who now teaches kendo in the local police precinct. He trains Iori in kendo.
Ad blocker interference detected!
Wikia is a free-to-use site that makes money from advertising. We have a modified experience for viewers using ad blockers

Wikia is not accessible if you've made further modifications. Remove the custom ad blocker rule(s) and the page will load as expected.