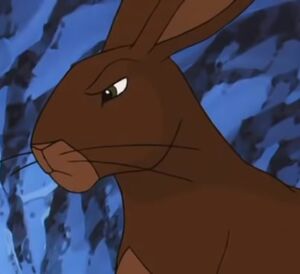 Campion is a rabbit who used to be the captain of the Efrafan Owsla in the Watership Down series.
Book and Movie
Campion is the captain of the Owsla; he is a brave and a skillful leader, and respected by General Woundwort. He is well liked by both Hazel and Bigwig despite being their enemy for a while. Campion takes over the warren of Efrafa after Woundwort's disappearance, and agrees that Efrafa and Watership Down can co-exist in peace. In Tales of Watership Down, the final chapter is devoted to Campion; he introduces the Wide Patrol to Vleflain and Watership Down and becomes a respected and well-liked leader.
He eventually dies on patrol after a fight with a pair of cats, but like Woundwort lives on in rabbit legends, as a sort of guardian angel for rabbits on patrol. In the film adaption, Campion makes a short non-speaking appearance in a scene with Bigwig and Woundwort, his fate is ultimately left open ended at the end of the film.
TV Series
In the TV series, Campion sees that Woundwort's leadership is destroying Efrafa, but is torn between his feelings for the free ways of Watership Down and his loyalty to his chief rabbit. In the end, Campion turns against Woundwort to save his friend's warren, yet sacrifices himself to save Woundwort from a falling rock.
Surviving miraculously but with terrible scars and losing an ear, Campion is touched by the Black Rabbit of Inlé and is tasked with stopping Woundwort. Feeling empty and half-dead, Campion's will to live is returned thanks to the love of Blackberry. He finally settles with her in Watership Down.
Ad blocker interference detected!
Wikia is a free-to-use site that makes money from advertising. We have a modified experience for viewers using ad blockers

Wikia is not accessible if you've made further modifications. Remove the custom ad blocker rule(s) and the page will load as expected.