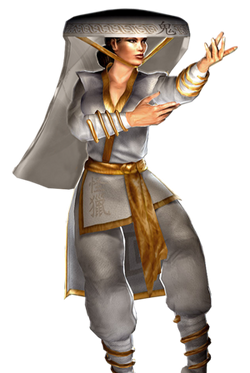 Ashrah is a heroine in the Mortal Kombat fighting game series, who made her debut in Mortal Kombat: Deception.
Trivia
When the first bits of information about Mortal Kombat: Deception began to surface, Ashrah was mistaken as a female version of Raiden. Her name also used to be spelled Ashra alternatively.
Ashrah is something of a departure from the series' regular character design as she is neither blatantly good or blatantly evil. She is also the first female character since Sonya Blade to not wear skimpy or revealing clothes during her tenure, her garb being almost modest compared to the others.
Ashrah is an Arabic word, which means "ten".
In Wonder Woman's ending of Mortal Kombat vs. DC Universe, Wonder Woman finds a sword which looks similar to Ashrah's kriss.
The kanji on her hat means "Demon" or "Ghost".
In Mortal Kombat: Deception's Konquest mode, Ashrah encounters Shujinko in Edenia where she explains to him that she finally purified her soul and accended from the Netherrealm, but without her sword (the Kriss). She asks Shujinko to retrieve the sword for her, which he succeeds in doing so. This may explain why she still wields the Kriss in Mortal Kombat: Armageddon.
Videos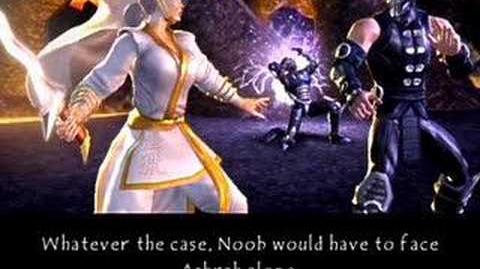 Ad blocker interference detected!
Wikia is a free-to-use site that makes money from advertising. We have a modified experience for viewers using ad blockers

Wikia is not accessible if you've made further modifications. Remove the custom ad blocker rule(s) and the page will load as expected.